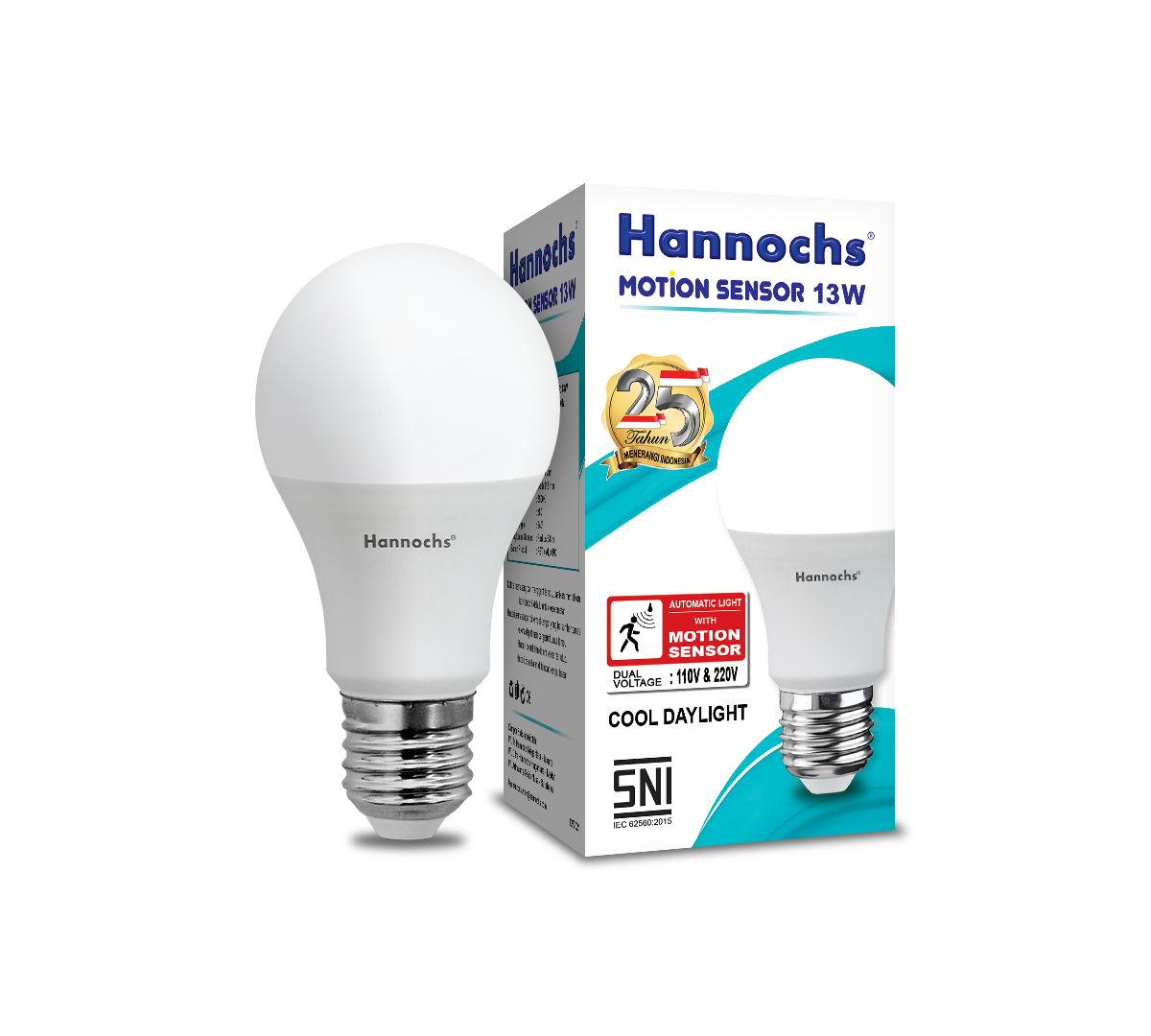 LED MOTION SENSOR
Innovative MOTION SENSOR Bulb (Create Automation Light ON.)
  Light will be automatically TURN OFF when when sensor detect no movement near bulb and TURN ON when sensor detect movement near bulb.
 Securing your home, make yout auto light will outwit thieves at your home.
No need to turn ON / OFF the swich.
Save out electricity bill.
Save energy up to 90% compared with regular incandescent bulbs.
Just install into the E-27 fitting. No external motion sensor needed
Can operate within 100 - 240 V.
Very good color rendering > 80.
No IR & UV radiation.
Frosted cover, impact resistant.
Long Life lamp up to 10'000 hours and Save Maintenance costs.
Low heat radiation.
FEATURES & PERFORMANCE
| | |
| --- | --- |
| Product Technology | LED with Motion Sensor |
| Lifetime | 10'000 hours |
| Fitting | E27 |
| Product Material | AL + PC + PBT |
| | |
| --- | --- |
| Color Rendering Index (CRI) | >80 |
| Beam Angle | 240º |
COLOR TEMPERATURE (K)
| | |
| --- | --- |
| Cool Daylight (CDL) | 6'500 |
POWER CONSUMPTION
| | |
| --- | --- |
| Voltage | 100 - 240 v / 50 - 60 Hz |
| Power Factor | > 0.5 |
LUMENS (lm) & PRODUCT DIMENSIONS
| Watt | Lumen | Height(mm) | Diameter (mm) |
| --- | --- | --- | --- |
| 5 | 435 | 122 | 60 |
| 9 | 910 | 122 | 60 |
| 13 | 1'330 | 122 | 60 |
OTHER PRODUCT YOU MIGHT WANT TO SEE
---
VIEW ALL HANNOCHS PRODUCT CATEGORY