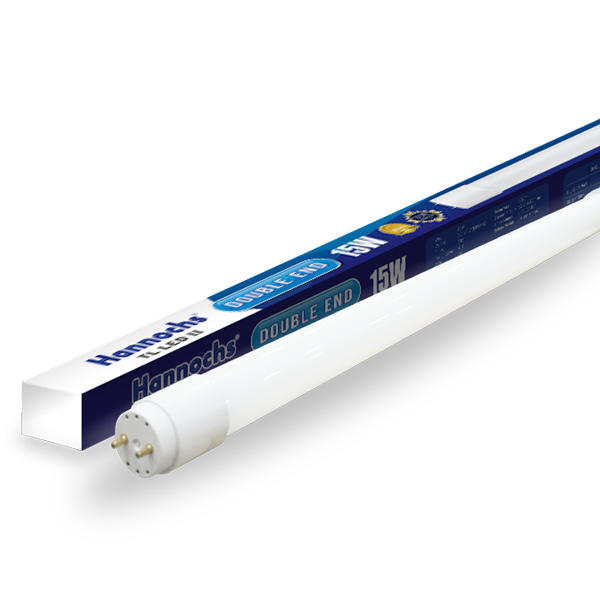 TL LED II - DOUBLE END
Energy saving up to 50% compared to ordinary TL lamps.
Can operate on a voltage of 170-240V.
Save maintenance costs.
Directly on (Instant ON) and without blinking.
Environmentally friendly, free of Mercury and other harmful substances.
Without using a TL lamp starter & ballast.
Free of ultraviolet and infrared radiation.
FEATURES & PERFORMANCE
Product Technology
LED
Lifetime
15.000 hours
Fitting
G13
Voltage
170 - 240V / 50 - 60 Hz
CRI ( Colour Rendering Index )
≥ 70
Beam Angle
270º
Power Factor
≥ 0.5
Product Material
Glass + Plastic (9W, 15W, 18W)
Glass + Aluminium (30W & 40W)
Available Colors
Cool Daylight = 6500K
Warm White = 3000K
Comfort = 4000K

| Type | Watt | Lumen (CDL/ WW / CF) | Product Dimension (mm) |
| --- | --- | --- | --- |
| TL LED II Double End 9W | 9W | 700 / 680 / 700 | ø 28 x 600 mm |
| TL LED II Double End 15W | 15W | 1040 / 1020 / 1040 | ø 28 x 600 mm |
| TL LED II Double End 18W | 18W | 1800 / 1720 / 1800 | ø 28 x 1200 mm |
| TL LED II Double End 30W | 30W | 3000 / 2900 / 3000 | ø 28 x 1200 mm |
| TL LED II Double End 40W | 40W | 4000 / 3880 / 4000 | ø 28 x 1200 mm |
---
VIEW ALL HANNOCHS PRODUCT CATEGORY