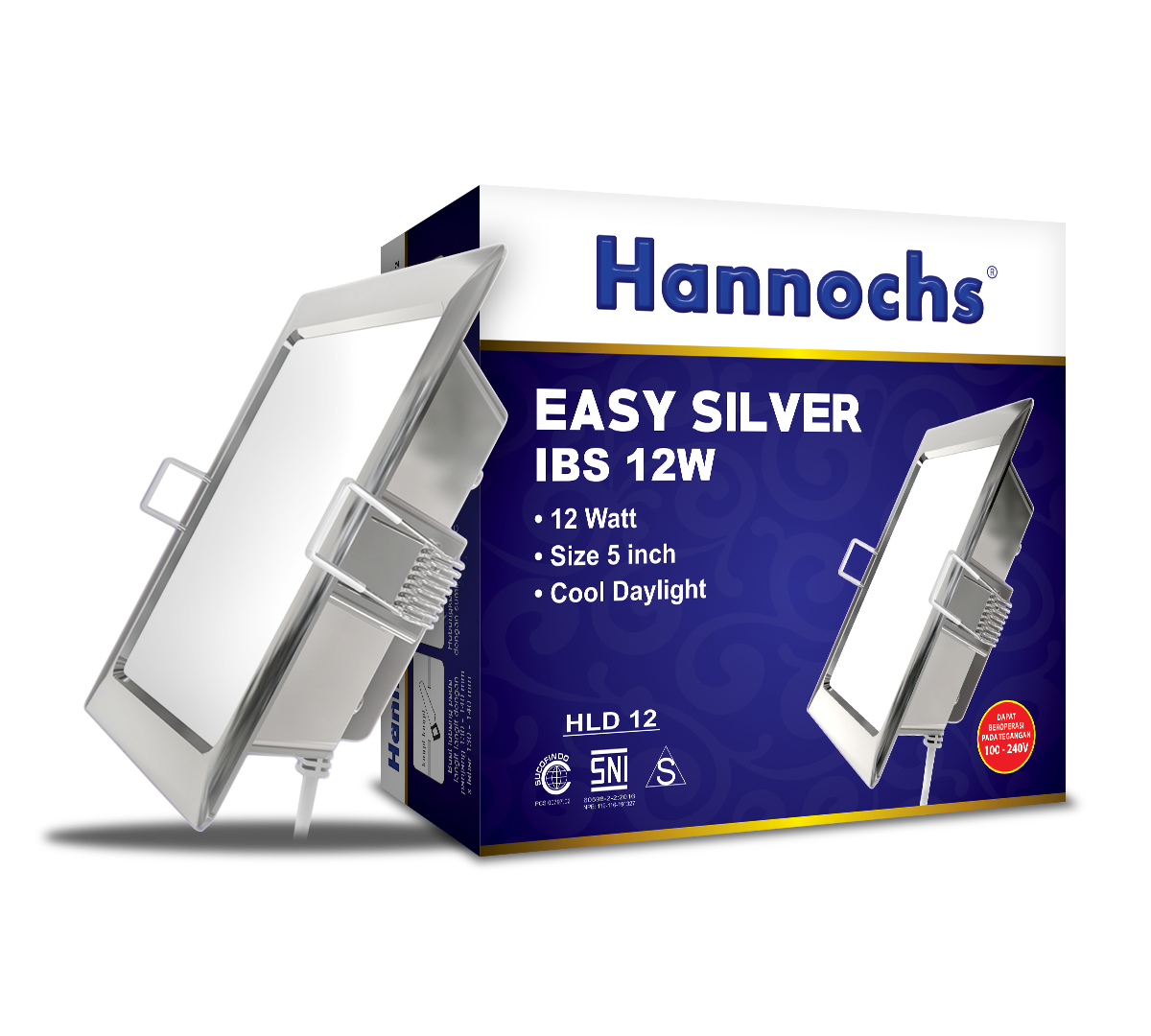 EASY SILVER IBS
Light weight and elegant lamp model.
Easy installation, can directly replace the existing E27 Downlight because the size of the cutting hole (ceiling hole) is the same.
Attractive silver color.
Easy to install with integrated driver (ballast).
Can operate at 100 - 240V voltage.
Very good color-adjustment index (CRI) > 80.
Application: Home, shop, boutique, mall, restaurant, hotel, etc.
FEATURES & PERFORMANCE
| | |
| --- | --- |
| Product Technology | LED |
| Lamp Life | 15'000 hours |
| Voltage | AC 220 - 240V (50/60 Hz) |
| CRI ( Color Rendering Index ) | > 80 |
| Beam Angle | 110⁰ |
| Power Factor | > 0.5 |
| Product Material | PBT + PC |
| Shape | In Bow Square |
| Color Temperature | Cool Daylight = 6500K |
LUMENS (lm) & PRODUCT DIMENSIONS
| Easy Silver | Watts | Lumen (CDL / WW) | Product Dimensions (mm) | Hole Size (mm) | Suitable for Downlight |
| --- | --- | --- | --- | --- | --- |
| 3W IBS | 3 | 320 | 87 x 87 x 40 mm | 65 x 65 - 75 x 75 | 2.5" |
| 5W IBS | 5 | 470 | 113 x 113 x 41 mm | 95 x 95 - 100 x 100 | 3.5" |
| 7W IBS | 7 | 680 | 113 x 113x 41 mm | 95 x 95 - 100 x 100 | 3.5" |
| 9W IBS | 9 | 950 | 128 x 128 x 47 mm | 105 x 105 - 115 x 115 | 4" |
| 12W IBS | 12 | 1'200 | 153 x 153 x 49 mm | 130 x 130 - 140 x 140 | 5" |
| 15W IBS | 15 | 1'550 | 179 x 179 x 49 mm | 155 x 155 - 165 x 165 | 6" |
| 20W IBS | 20 | 2'100 | 179 x 179 x 49 mm | 155 x 155 - 165 x 165 | 6" |
OTHER PRODUCT YOU MIGHT WANT TO SEE
---
VIEW ALL HANNOCHS PRODUCT CATEGORY