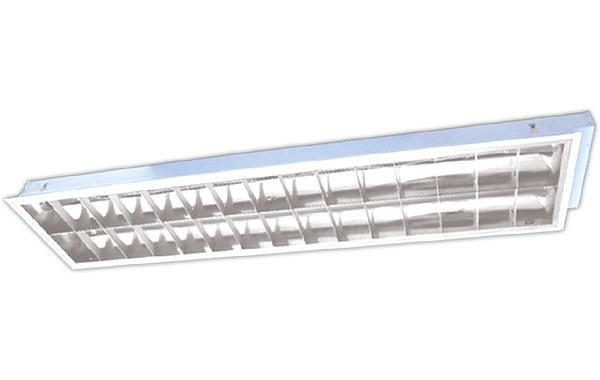 RECESSED METAL LOUVRE
The easy-to-install luminaire is specially designed for incorporation in both open TL light and recessed TL light systems.
The light control mirror is made of imported quality electrochemical aluminum or imported quality stainless steel which does not blacken and is not easily oxidized.
The surface of the lampshade is treated with spray plastic technology to provide good protection against rust and corrosion.
Metal louvers for hidden installations such as gypsum tiles or wood panels.
KAP This lamp is available in 2-3-4 lamp versions for 18W /20W fluorescent lamps and 1-2-3-4 lamps for 36W /40W fluorescent lamp versions.
FEATURES & PERFORMANCE
Type
Dimensions (mm)
Net Weight
For Lamp
Long
Width
High
RMG 2 x 20
598
298
80
1.5 kg
Fluorescent 2 x 20 Watt
RMG 3 x 20
598
598
80
2.6 kg
Fluorescent 3 x 20 Watt
RMG 4 x 20
598
598
80
2.8 kg
Fluorescent 4 x 20 Watt
RMG 2 x 40
1198
298
80
2.7 kg
Fluorescent 2 x 40 Watt
RMG 3 x 40
1198
598
80
5.6 kg
Fluorescent 3 x 40 Watt
OTHER PRODUCT YOU MIGHT WANT TO SEE
---
VIEW ALL HANNOCHS PRODUCT CATEGORY